---
Jefferson Park Neighborhood Association is a non-profit corporation filed with the state of Illinois since 2002.
In September 2001, the Jefferson Park Neighborhood Association (JPNA) held its first public meeting. The meeting was held in the Jefferson Park field house auditorium, under the eyes of Thomas Jefferson, whose portrait proudly hangs on the wall. The JPNA was organized by several members of the Jefferson Park Chamber of Commerce and by residents of the Jefferson Park area. The purpose was to provide a shared vision of the neighborhood to move it into the next century while maintaining its small-town atmosphere. Some of the organization's historical highlights are as follows:
-- In 2011 and 2015 the JPNA organized and hosted the 45th Ward Aldermanic debates. The JPNA has hosted several other political debates since 2003, often teaming up with other neighborhood associations and local newspapers.
-- Formation of the Jefferson Park Historical Society. This started as a committee, and was so popular that it was spun off into its own freestanding organization. The historical society even began filling the gaps of other Northwest-side neighborhoods that didn't have their own historical societies, prompting a name change to the Northwest Chicago Historical Society.
-- Since 2008 JPNA has been a big supporter of "The Garden for the Hungry", a garden for raising fresh vegetables for area food pantries. The garden started as an Eagle Scout project by Boy Scout Troop 840.
-- The 2009-2010 JPNA cookbook, with recipes from members, was such a success that JPNA was prompted to bring out another volume.
-- Area gardeners enjoy the JPNA semi-annual plant and flower sale.
-- Since the summer of 2011 the JPNA, along with the Copernicus Foundation and the Chamber of Commerce brought back a farmers market to the neighborhood. With fresh fruits, vegetables, jams, honey, and more from Midwest farms, Jefferson Park Sunday Market has proven to be a popular event every other Sunday, from late June through October.
JPNA has served area neighbors as an outlet for their opinions, interests and concerns. General meetings are held on the last Wednesday of the month at Jefferson Park Congregational Church, 5320 W. Giddings, at 7pm. Everyone is welcome. JPNA has a quarterly newsletter, a website (www.jpna.net), a yahoo group, and a facebook page to share information of local interest.
JPNA Boundaries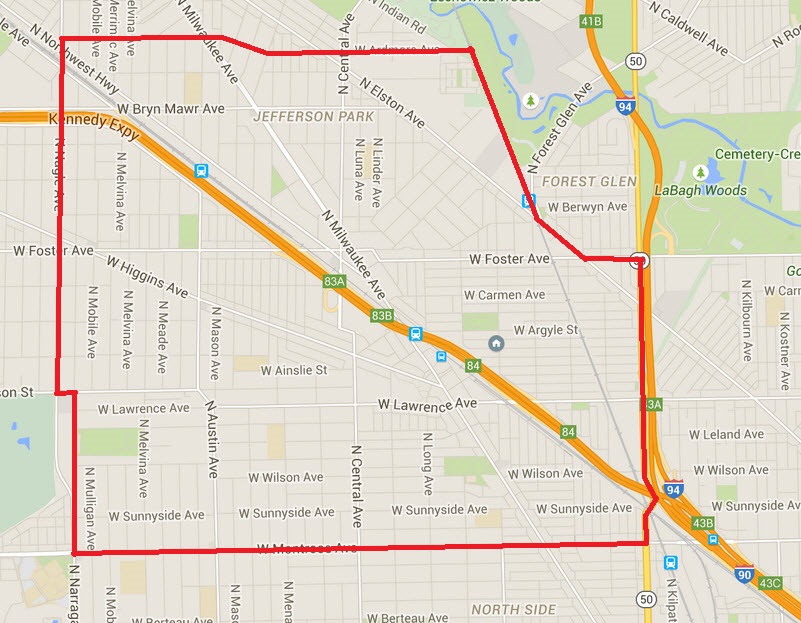 The primary JPNA borders, using a version of "in center of the way" method, are:

South Boundary is Montrose Ave;

North Boundary is Ardmore Ave between Nagle Ave and Milwaukee Road RR Tracks;

West Boundary is Narragansett Ave from Montrose Ave to Gunnison Ave. Nagle from Gunnison Ave to Ardmore Ave;

East Boundary is Cicero Avenue between Montrose and Foster; then on the East in N. Elston Ave; down Milwaukee RR Tracks to Ardmore.