---
Background
The Zoning and TIF Task force of the Jefferson Park Neighborhood Association (JPNA) was established to educate and promote the following as stated in the Chicago Zoning Ordinance:
17-1-0501 promoting the public health, safety and general welfare;
17-1-0502 preserving the overall quality of life for residents and visitors;
17-1-0503 protecting the character of established residential neighborhoods;
17-1-0504 maintaining economically vibrant as well as attractive business and commercial areas;
The following Link contains Chicago Zoning Information: AMLegal Chicago Zoning
Properties are zoned in a number of ways. For example, they can be residential (RS1 to RM-6.5), Business (B1.1 to B3-5), Commercial (C1-1 to C1-5), and a special zoning called Planned Development (PD). Within the Jefferson Park Area predominate zoning in residential is RS-2 and RS-3 and for Business B*-1 and B*-2. It is the number after the dash that indicates the density change. Go to a higher number will allow for increased density for a parcel of land or property. or a list of zoning in our area go to the following link: Chicago Zoning Map
No Up-Zoning
The JPNA define changes in zoning to increase density in the neighborhood as Up-Zoning. In basic terms if the change in zoning increases the number after the dash, then it is up-zoning. For example, change from RS-3 to RM-4 is up-zoning. Likewise, change from B3-1 to B2-2 is up-zoning (Note the number after the dash went from 1 to 2). The letter after the 'B' is how the property is to be used and does not affect the density.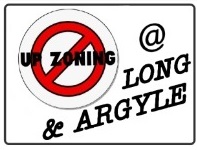 The JPNA has been opposed to up-zoning within Jefferson Park since 2004, when Mega Realties wanted to change zoning to build a 6 and 10 floor buildings on Lawrence Avenue. In order to accomplish this developer would need to increase the current zoning from B3-2 to a B*-3 designation.
A developer along with the support of Alderman Arena is looking to build two 5-story buildings at Long and Argyle in an area that is zoned for RS-3. This is a change in the original plans to build single family homes. In order for the developer to build the structures there would need to be a zoning change to RM-5. This is an egregious case of changing the zoning to allow for increase dense population in an area. The result would decrease the quality of life of current neighbors and goes against protecting of established residential neighborhood. In addition it will allow for more up-zoning in the area based on precedence. To date over 1250 neighbors have signed a petition against the building proposed on Long and Argyle. The signatures were presented to Alderman Arena. As of November 28, 2014, Alderman Arena has not reversed his position . As of January 20, 2015 Alderman Arena indicated the there is no longer a proposal on his des..
Historical: During the Aldermanic Debate when asked about the Up-Zoning at Long and Argyle the following was said: Garrido - "Community has already spoken. 1500 plus signatures they do not want this. Density is not always the answer to economic development." (Alderman debates) Arena - Did not answer the question at the debate. Baert - "Long and Argyle is about single family homes. Vote should be taken on what the community wants" (Aldermanic Debates) Diaz - "If zoned for single family home you knew when buying it. If the residence are against this, then so am I." (Aldermanic Debates)
Aldermanic Debate, January 21, 2015
Pedestrian Walkway
The JPNA voted unanimously against the Pedestrian Walkway on Lawrence. Please see link below on the reasons why we are not in favor of the Pedestrian Walkway.
Jefferson Park Pedestrian Walkway
In spite of our opposition, Alderman Arena brought it in front of the Chicago Zoning Board of Appeals. There was opposition to the proposal with Alderman Arena being the only one to be in favor. Even though the board urged Alderman Arena to postpone the change in designation,
Links to Websites
Zoning Code Summary from 32nd Ward
Zoning and TIF Task Force Meetings
When: October 10, 2015, noon
Where: Jefferson Park Library Community Room
Agenda:
Differences between B3-2, B3-3, and B3-5 Zoning.
12 floor building on Lipps.
Update on Long and Argyle.
Other zoning topics.